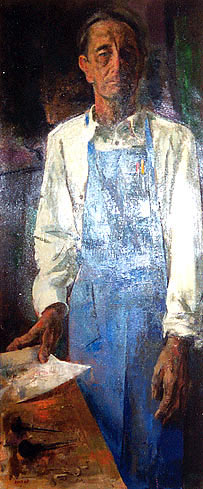 "The name of Luigi Rist is familiar to many followers of print exhibitions, although to the average person he is still little known. His works are interesting not only for their artistic merit, but also because they are examples of one of the oldest methods of printing known to man. Executed with exacting technique and the greatest care, they are monuments to patience and integrity.
In these years of mechanization, mass productions, and standardization, it is encouraging to know that the handcrafts can be developed, not as curiosities, but as living examples of the finest things man can produce, in complete harmony with the most modern tradition in art and decoration.
Mr. Rist has spent years studying, learning, and developing the ancient process of wood-block technique to a high degree. Beginning with many careful black and white drawings, developing his design, working with form and space, he plans and carves a key block, then one color is laid over another through successive blocks and impressions until the print grows under the artist's hand into a satisfying whole.
To the layman, the idea of making an average of from 10 to 12 hand-cut blocks, and 30 to 40 hand-rubbed impressions on 100 separate numbered prints must seen a prodigious amount of labor. As the color is brushed or "painted" upon each successive block, the finished print is creative, individual, and becomes not just another print, but has its own distinctive character…truly a work of art, not merely a copy or reproduction."
Portrait in oil of Luigi Rist by Adolf Konrad (Copyright by Adolf Konrad and used with his permission). Believed done in 1956 and is 23" X 47" including a 2 3/4" frame. Note: Photo has a flash reflection. For a B&W without reflection, touch photo.
(Text from the Christian Science Monitor Weekly Magazine Section, Nov 11, 1944 written by Ted Braithwaite)